The Commons
Downtown Midland is excited to introduce The Commons for Summer and Fall 2021. The Commons includes The Commons Refreshment Area and The Commons Pedestrian Plaza. Information on each area can be found below.

New for 2021 is The Commons Refreshment Area. From Gordon St. to Rodd St. and Larkin St. to Main St., visitors to Downtown Midland can enjoy select to-go alcoholic beverages outdoors. Please be sure to follow all signage directions and please drink responsibly.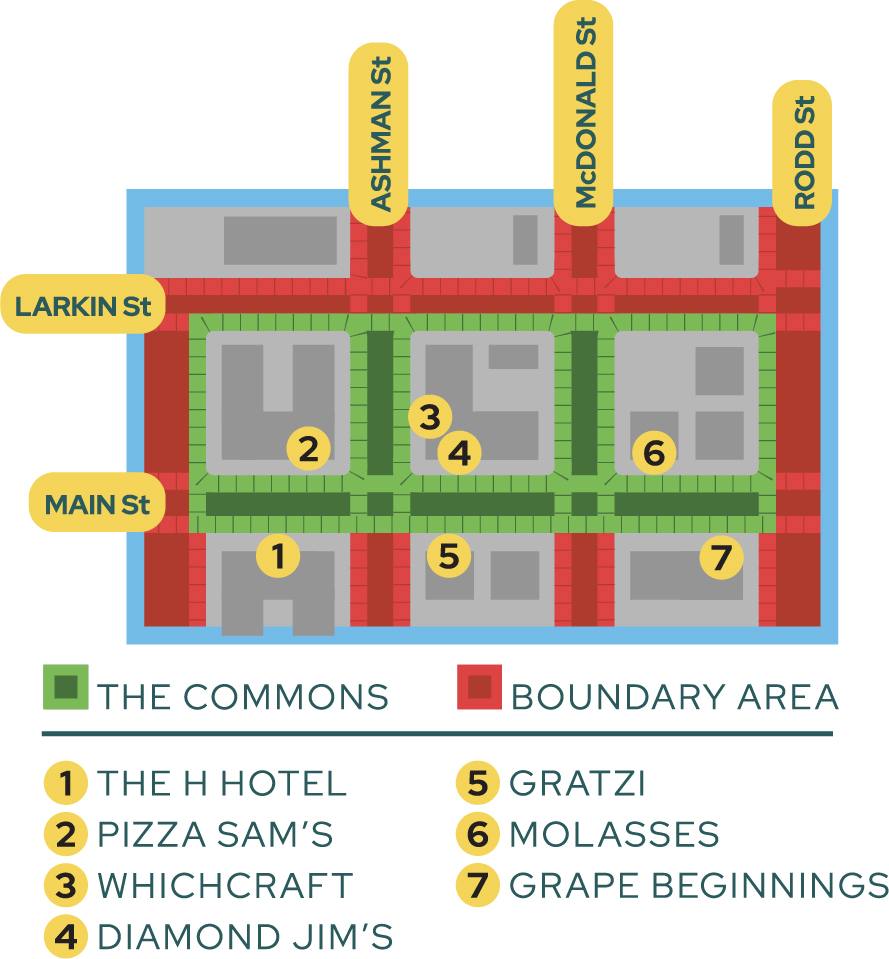 Back for 2021, the The Commons Pedestrian Plaza sits on Main Street in Downtown Midland from Ashman Street to Rodd Street. The Pedestrian Plaza is closed to vehicle traffic, and includes a variety of seating options and activations the whole family can enjoy.
FAQs:
Which roads will be closed? Can I still get down to the Tridge?
 Starting the week of June 7 Main Street from Ashman to Rodd will be closed, including the McDonald street intersection. That's it! Everything else will remain open. You can still get down to the Tridge!
Can I take my WhichCraft drink onto Pizza Sam's patio?
N0, that's crossing liquor licenses.  Traveling beverages may not be taken into other businesses with a liquor license or on to the private dining patios of businesses with a liquor license.
Can I bring my own alcohol to The Commons?
N0, all alcohol consumed in the area must be bought from one of the approved establishments.
Do you have to be 21 to enter The Commons?
No, anyone is allowed in The Commons, but you must be 21 years old to purchase and/or consume alcohol.
Are dogs allowed in The Commons?
Yes! We just ask that you keep them on a leash and clean up after them.
I hear there will be live music on the weekends. Where can I find a schedule?
Yes! We will have live music right on Main Street every Friday and Saturday from 7pm to 9pm. You can find the lineup here!